Business owners and entrepreneurs sometimes need to get away from the office to work.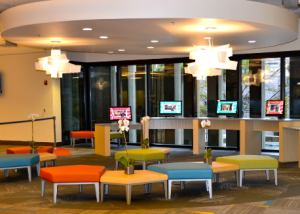 Whether you need to be removed from your staff for a moment, or you have a business meeting to conduct, knowing where to go when you want to work away from the office is essential.  
As business owners of moving companies in Orlando FL, we often have the need to get away and conduct some business. And when we do we have our favorite spots to get things done.  
Our Moving Companies in Orlando FL Say These Spots are Hot
Catalyst
Catalyst is one of the most popular public work spaces in Orlando.  Catalyst is a unique model of community office space.  Although there is a charge for using the space, they offer flexible month-to-month options on co-working spaces. 
Everything you need to get your work accomplished, and resources to help grow your business.  It's also a very well-attended work space, meaning that you have the opportunity to mingle, collaborate, and network with other professionals.
CoLab
CoLab offers a similar concept to Catalyst, but is in a more relaxed environment.  It offers less pricing/membership options than Catalyst, but is also less expensive.  With a modern office workspace environment, CoLab is set up in lounges and work tables, also offering private office space when needed.
Downtown Credo
Downtown Credo is a non-profit coffee shop that focuses on creating networks of people to make a difference.  They are involved in projects such as trash clean ups, vegetable gardening, and playground refurbishing.  
It's a great model, and a very popular place for young professionals to meet as the garden benches there are almost always full. Not only are you in a feeling of good environment, but your patronage makes a big difference.
Barnie's Coffee Kitchen
Barnie's Coffee Kitchen is another hot spot for working outside the office.  With coffee, Wifi, and a great breakfast and lunch menu, you don't need much more for a great work environment.
If you're looking to meet with a group, there are a few great places in Orlando to conduct your business.  Whether you're having a team meeting, or hosting some visitors from corporate on their visit to town, these locations offer private meeting rooms with full service.
Delmonico's Italian Steakhouse
Delmonico's Italian Steakhouse has been a long time staple for professionals in New York, and has now opened up an Orlando location.  
The restaurant and bar are excellent for networking opportunities, and private meeting rooms offer privacy for business meetings.  The Orlando locations has a room for 10 and one for 60, so they can host your meeting, big or small.
Dragonfly Modern Izakaya &Sushi
Dragonfly Modern Izakaya &Sushi is perfect for a trendier approach to your meeting.  They offer a private dining room for up to 32 people, which is perfect for an annual meeting.
Whatever your profession, Orlando is the perfect place to conduct your business, whether you prefer to be inside or outside of your main location.  If you are looking for an office, contact one of your local moving companies Orlando FL by calling Strong College Students.  
0
0
admin
https://strongcollegestudents.com/wp-content/uploads/2015/02/strong-college-students.png
admin
2016-07-28 15:47:18
2022-02-08 10:31:24
Our Moving Companies in Orlando Fl Suggest Good Public Workspaces