Our Professional Movers in Tampa FL Say This is the Place To Be
There are certain cities that pave the way for young, business-minded individuals and become a destination for young professionals.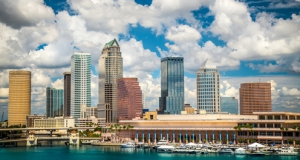 We are professional movers in Tampa FL  and as such we've seen the amazing opportunities the city has to offer.
Tampa, FL makes all of the lists for top places to live for young professionals, and there are some great reasons why.
Why Do Our Professional Movers in Tampa FL Love it Here?
The job market in Tampa is excellent, and most companies are specifically seeking young professionals.  
For someone just out of college, or with a bit of experience after college, Tampa has become the entry level destination for many different careers.  
With a strong tech development industry, art scene, and privately owned businesses with unlimited opportunities, Tampa has developed a reputation for being the place to launch a career.
Young Professionals Welcome!
Not only do the companies in Tampa want to attract young professionals, but the actual area does, too!  
Several organizations and the city of Tampa began a campaign a while ago to attract a younger generation to the area- and it worked.  
Now, Tampa is a great place for millennials, with a lively nightlife, excellent restaurants, and tons of entertainment.  
The city is walkable and convenient to get around, and residents love the cities diversity, from the population to the area itself.  
You can live in the hub of the city and still be a short distance from the local parks and hiking trails.
If you're an entrepreneur, there is also ample opportunity for you in Tampa.  In fact, Tampa has been named one of the top places to start a business by more than one publication. 
Its wide variety of local population and tourists make it a great place to gain exposure and find your market.  Tampa is a city that is intensely supportive of privately owned businesses. There is no shortage of places to go for funding to get started.  
Small business loans are everywhere in Tampa. And the average person can expect to be accepted by a good number of financial backing providers.
Live the High Life With Tampa's Low Cost to Live
Tampa also offers a cost of living that allows new business owners to keep their expenses low- if they're careful.
There's a tempting amount of things to do in Tampa, but a focused individual can expect to be comfortable on a budget while building their business.
As professional movers in Tampa FL Strong College Students started as a privately owned company and developed into a booming franchise.  
We are well aware of the ample opportunities for young professionals in Tampa. And we've taken these opportunities and created the strong company we have today.
0
0
admin
https://strongcollegestudents.com/wp-content/uploads/2015/02/strong-college-students.png
admin
2016-07-13 11:27:34
2022-02-08 10:31:51
Our Professional Movers in Tampa FL Say This is the Place To Be