Strong College Students Are Your Local Same Day Movers
When you have to move fast, Strong College Students is the moving company you need!  Our same day movers are experienced, professional, and responsible.
We know that you're going to have a lot to take care of if you find that you suddenly need to move.
Let our team of same day movers take care of your relocation needs so you can move quickly and safely.
Our Same Day Moving Services are the Best Around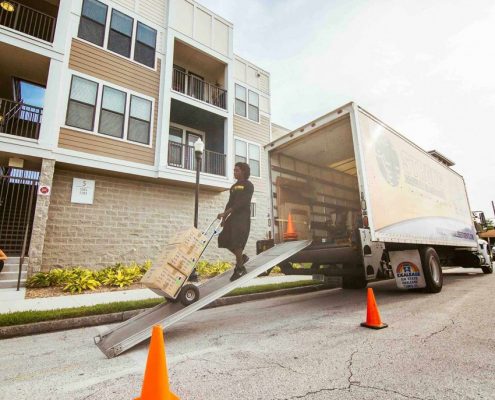 At Strong College Students, we take our job very seriously, and are constantly striving to stay at the top of our profession.
Our same day movers are expertly trained and educated in their field.  When you need to move quickly, trust Strong College Students to handle the process and make your move easier for you and your family.
Strong College Students is dedicated to offering excellent service, and our same day moving services are no exception.
Many same day moving companies become too busy to follow through on same day service offers, or do not have the expertise to make sure your belongings are moved both quickly and safely.
Strong College Students has same day movers on hand so that when you are in need, we're here to help.
When working quickly, same day movers can make mistakes if they are not properly trained and experienced. Our movers have done this many times before.  They know exactly what to do to get started, how to carry out the moving plan, and how to prevent any potential issues from arising.
In addition to your everyday belongings, our same day movers have the knowledge to move large pieces of furniture, antiques, fragile items, electronics, pianos, and much more.
Our movers are educated and experienced in their field.  Get started by talking to one of our professional representatives, and we'll get our crew ready to move you immediately.
If you Need to Move Quickly, Try our Same Day Movers
Strong College Students is a company dedicated to excellence. We employ the latest techniques and know all the best methods to move your possessions safely, no matter the size or fragility.
We have an extensive training programs that helps our employees not only understand what they are doing, but excel at it.  Your valued possessions will be safe with our team, even when you're in a hurry.
With our expert team taking care of the actual relocation, you can spend your valuable time tying up loose ends and making necessary arrangements.
With all of the extra time, you might even be all set by the time you get to your new home!
Why Would I need Same Day Movers?
Sometimes, the unexpected happens, and there is nothing worse than being put in the terrible situation of having a full home or office to relocate on a moment's notice!
If you need to move quickly, it can be difficult to find a reliable moving company that offers same day services for your move.
Our same day movers are fast.  They know exactly how to organize the situation so that you aren't left waiting with an unfinished job.
One by one, your items will be carefully moved into your new home- all in the same day!  Our professional staff is courteous, detail oriented, and knowledgeable.  What more could you want in a moving company?
Call Strong College Students Now!
The sooner you get in touch with Strong College Students, the sooner we can start moving you out of your old location, and into your new one! Even in the most time-limited situations, you will get our top care and detailed attention.
Our same day movers and next day movers will never sacrifice quality work for quick service, and have worked hard to offer you service that is both reliable and efficient.
For same day moving services, there is no better choice than Strong College Students.  Call us any time to get started and we'll make sure that your move is completed within your deadline.