Moving Labor is a specialized service that solves an immediate problem for residential and commercial customers. Strong College Students Moving specializes in Moving Labor and can provide a variety of moving labor solutions across the United States and even internationally. Our team of polite, professionally, trained, student movers can provide loading, unloading, home organizing, staging, and several other labor services.
When Should you hire Moving Labor?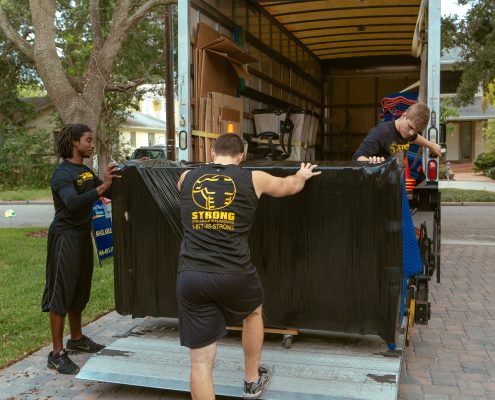 Loading a Rental Truck
Loading a Portable Storage Container
Loading a Storage Unit
Loading a Trailer
Moving Items around your home, condo, apartment, or townhouse.
Organizing items for Spring cleaning
Before and After the holidays
Maximizing the space in your Garage, basement, or attic
To create more space and organization in your storage unit.
Unloading a Rental Truck
Unloading a Portable Storage Container
Unloading a Storage Unit
Unloading a Trailer
For Local Moves under 100 miles
Long distance moves over 100 miles
Why is moving labor popular?
Moving can be overwhelming. In fact moving is considered the fourth most stressful event in life! Often moving can be expensive because there are so many factors involved.
Lets examine a few of these factors below to help you prepare for your upcoming move.
1. Researching and Finding a new place to move.
2. Taking the time to organize your personal items before moving.
3. Sorting what will be moved, donated, thrown away
4. Figuring out how your are going to move to your new residence
5. Finding a reliable, trustworthy, moving company like Strong College Students
6. Getting quotes for Storage or Rental Trucks if you are NOT using Strong College Students Moving
7. Ordering the correct amount of packing materials and boxes to pack your home
8. Packing up all your personal belongings
9. Picking up your rental truck
10. Finding parking for your rental truck at your current residence is tough because of the size of the vehicle.
11. Having the correct moving equipment and accurate number of blankets needed to protect your items
12. Prepare your entry way and flooring for safe moving operations to avoid damage to your current location.
13. Cleaning & dusting your furniture before you start the moving process
14. Organizing the required tools & equipment
15. Disassembling your furniture so it will fit outside your front door.
16. Store and save all nuts, bolts, and connecting pieces from the disassembly of each item.
17. Loading the contents of boxes, furniture, and other personal items
18. Making sure you efficiently stacked and organize the items being loaded into the rental truck.
19. Secure your shipment inside the truck to make sure it doesn't move, shift, or fall while in transit.
20. Find efficient safe parking location upon arrival to the new destination location.
21. Cleaning and preparing the new location for the arrival of your personal items.
22. Protection of entry ways and flooring at the new location.
23. Remove contents and furniture from the truck into the new location.
24. Keep furniture, boxes, and contents from blocking the flow of traffic inside the new location.
25. Arrange and determine the final resting place of all furniture items.
26. Re-assembly of furniture that was disassembled.
27. Organization and placement of boxes and contents in the correct areas.
28. Unpacking of personal items into their new locations.
29. Clean up and removal of debris and packing materials from moving.
30. Fueling and returning the rental truck with all equipment.
With all the above steps listed you can see why moving is such a stressful process. Often in an effort to manage more of the moving process but keep moving cost lower clients will choose to hire Strong College Students for Moving Labor. We can help manage the stress of moving while using our experience and expertise. We can help with packing of your personal belongings as well as the loading and unloading of your moving truck.
Since our teams of student movers are expert packers and loaders they can load or unload your moving truck with speed and efficiency. Our student movers can also maximize the space inside your moving truck by using our custom furniture tier building system. This is when we use our skill set to make your furniture fit together inside the back of your moving truck like a set of legos or similar to the video game tetris. Each piece and fit next to the next piece maximizing the cubic volume of the space inside your truck.
How our Moving Labor Works.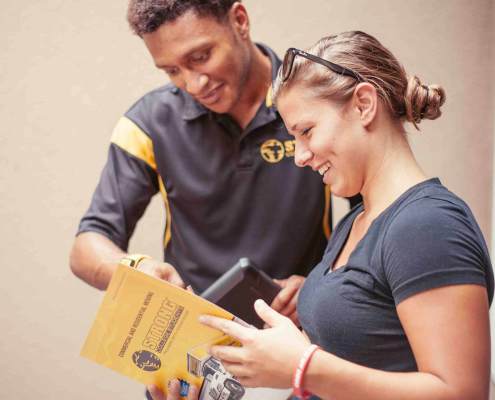 Moving labor is a good option for those who are DIY focused (do it yourself). These are often referred to as "Self-Moves" the process of moving when you are moving yourself and responsible for all 30 of the steps listed above. By renting your truck or portable storage container you are taking control of your move however you personal items from your home will still need to be loaded and or unloaded. Strong College Students specializes in moving labor and can help you complete the hardest and most important steps in the self moving process. We will load and or unload your moving truck or portable storage container.
Moving Labor can also be used to spruce up your home or prepare for festive times of the year. Moving Labor is a helpful resource at any time of the year. Whenever you additional assistance to organize, arrange, or move items within your home Strong College Students moving labor service is a helpful option to meet your needs. Our teams of movers can help move furniture out of the way for remodeling projects, new flooring, or to organize items in your garage, attic, or storage unit.
Step 1: Contact Strong College Students
Contact our office for a free estimate. You get a free estimate for service online. It is very good to have the following details.
Contact information for the person who needs the moving labor
Details about what items needs to be moved
Any information about oversized items that may require 3 or more people to pick up, lift, or carry
The starting and ending locations for the items that need to be moved
Your goals for the project and what you would like to accomplish
Step 2: Book the Service
&

Hire Strong College Students
We have flexible schedules and can provide next day and in certain cases same day service. Our office do work on a first come first serve basis so we recommend to book your moving labor service as early as possible. Over 75% of customers book between two and six weeks ahead. So don't think its ever too early too early or too later too book. If you do need next day service or same day service we recommend you be prepared to be flexible and our team will work hard to find a way to help you.
To book or hire moving labor you will need to pay a deposit to confirm the arrival of the crew and equipment. Deposits can include the travel cost as well as the moving labor team cost for your desired move date. Once you ave paid your deposit you will be sent a confirmation via email and or text message. Our teams will follow up on your scheduled date and let you know they preparing to depart to your location.
Strong College Students is a team environment and we have a robust network of franchisees as well as moving partners so if you need help loading or unloading your moving truck or storage container in another city or state we can help you with that as well. We are here to help so please don't hesitate to let us know how we can be of service to you.
Step 3: Sit- Back
&

Relax
Our teams of student movers are expert packers and loaders they can load or unload your moving truck or storage unit with speed and efficiency. We can help manage the stress of moving while using our experience and expertise. If you like the idea of sitting back and relaxing even more than you can also choose our Full-Service Moving service for local or long-distance moving. We will provide a truck, student movers, and pick up and delivery to the locations you need.