Owning a franchise allows you the freedom of your own business, combined with the support of a successful business model.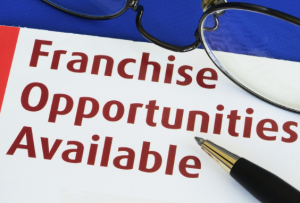 Franchises are a great business model. Strong College Students offers this model for potential franchise owners.  
As one of the top St Petersburg moving companies, we are happy to offer this amazing opportunity nationwide.
Our St Petersburg Moving Companies Reap the Benefits
One great way that franchises are beneficial to the owner is the opportunities to expand the business.  The initial buy in to a franchise normally includes a number of advertising and expansion opportunities.  
There is no need to create new logos, taglines, or invest separately in marketing materials.  The strategy for promoting the business has already been tried and tested, and is designed for success.  
All of the tools necessary to promote your business are given to you. You will also get the advice and experience of others who have promoted your business successfully in the past.
Promotion is also made simpler by the immediate brand recognition you get when buying into a franchise.  Experts say that it takes an average of 2-5 years to build a business, and most of this time is spent getting your name out and having people become familiar with your brand.  
With a franchise, you can cut down your time getting recognition because you are already using a name that is nationally recognized. You will realize when you buy a franchise your business has already been promoted for years before you even got there- all that's left to do is let the public know where you are!
A Wise Investment
Investing in a franchise is a more cost-effective model than starting the same type of business from scratch.  You are buying into a bulk of materials to build your business, from a dedicated group that does this on a regular basis.  
This entitles you to deep discounts that the company is passing on to you to help build your business, and is the reason that franchise start-up costs are so affordable.  Even St. Petersburg moving companies have a reasonable buy in with Strong College Students franchises.
If you have an entrepreneurial spirit and think you are the type of person that can use a tried and true business model to lead you to success, buying a franchise might be the option for you.  
As a brand with an excellent reputation and incredibly efficient business model, Strong College Students is happy to provide franchise opportunities to people looking to start a thriving business.
0
0
admin
https://strongcollegestudents.com/wp-content/uploads/2015/02/strong-college-students.png
admin
2016-07-25 15:20:58
2022-02-08 10:42:29
Why Franchises Are a Great Business Model