Why Use Strong College Students for Apartment Moving
Apartment Moving Takes Time
Apartment moving is also perceived as an easy task- until you realize how effectively you've been living your daily life in your apartment! Packing your belongings takes up valuable time that you could be spending making arrangements for your new home. Our packing professionals will make sure that you are organized and efficient. Then, our professional apartment movers will professionally relocate your items to your new home.
Apartment Moving Can Be Cumbersome
When you bought your furniture, how did you get it into your apartment? Maybe the delivery company brought it for you, or maybe you spent hours maneuvering tight spaces and finding access points.
Our movers will become familiar with your building, your apartment, and your possessions, so that we can safely and quickly move your belongings.
Professional Apartment Movers Are Cost Effective
Think of all of the expenses associated with moving your apartment! If you were to move your belongings on your own you would need a moving truck, insurance in case your items need to be replaced, and most importantly, your valuable time.
When you use professional apartment movers from Strong College Students, everything you need for a safe and efficient move is included in the service. You won't need to take time off of work because you'll have a team of professionals at your disposal.
Our moving trucks are reliable, and our professionals will know exactly how much space you need so you're not left guessing. Using Strong College Students could be a cost effective and time saving option, so contact one of our representatives for your quote as soon as possible.
Moving is a process no matter how much you may own. Many people believe that moving services are for houses, but at Strong College Students, we know moving your apartment can be just as time consuming and stressful. Our apartment movers can help you have a smooth and effortless move as you relocate to your new apartment.
Here's What you Receive When you Hire Strong College Students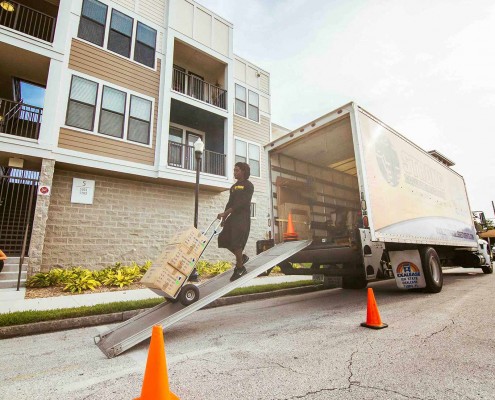 The Strong College Students Full-Service Moving Experience includes the following to make your move as safe and efficient as possible:
• Custom Blanket Wrapping, in which necessary items are custom wrapped before being loaded into the truck. Wrapping items in the home keeps them protected throughout your move.
• During every full-service move, our staff is also equipped with a Custom TV Crate that has been custom built to perfectly fit one of the most valuable items in your home. The custom TV crate is the safest way to protect against damages or loss.
• Free Replacement Cost Insurance comes standard on all full-service moves. With our professional movers, accidents rarely happen, but if they do, you'll never be in the position of leaving your valuable belongings unprotected with Strong College Students.
• When you move out of your current apartment and into your new one, you want to make sure that you are careful to protect your property and your security deposit. To help protect entryways, floor and door protection is also included when you book Strong College Students.
• We'll pack and protect items like mirrors, pictures, glass and other breakables. Our knowledgeable apartment movers know exactly how to ensure that your belongings are safe throughout the course of your move, no matter what the distance.
Our Team of Professional Apartment Movers
Strong College Studentsis a moving company with a commitment to supplying customers with unparalleled standards of service. Our staff of Strong College Students movers and booking agents work hard to provide excellent customer care and outstanding personalized moving experiences.
Our team of apartment movers is equipped to handle local and long distance moves for your apartment. Upon request, Strong College Students also provide staging, junk removal and packing services.
Strong College Students Provides Professional Packing Services
Don't you Lift a finger!
Upon request, the Strong College Students moving company will deliver packing materials and boxes to you. We also provide full-service packing for one room or your entire apartment. Packing is best done with unpacking in mind, and our apartment movers know exactly how to pack your belongings so that you have an easy unpacking experience. Your possessions will be carefully packed in a space efficient manner so that you can make the most out of your moving space.
At Strong College Students, our dedication to excellence sets us apart from other moving companies. If you are moving into a new apartment, trust our apartment movers to provide you with the safest and most reliable service around. For a free quote, contact one of our representatives, and take the first step toward an exceptional moving experience.