Strong College Students is more than just your local movers in Tampa.  We offer amazing opportunities for our employees.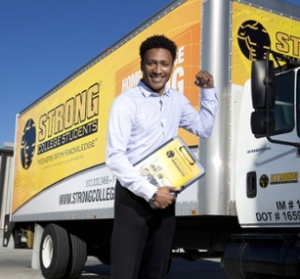 We focus on employing college students. It's important to us to offer valuable lifelong opportunities.  
One of the highest opportunities we offer is franchise opportunities.  There are many benefits to owning a Strong College Students Franchise.
Our Local Movers in Tampa Also Own the Franchise
A franchisee sticks to the values upon which Strong College Students was started.  
Strong College Students provides employment for college students. They are designed to provide gainful employment while respecting the necessity for educational focus.
Whether our employees are looking to add to the local movers Tampa industry, or if they are looking to branch out into other areas, we offer franchise opportunities nationwide.  
We have a unique business model that encourages success in our franchise owners.  We provide all of the tools and training for our franchise owners in a way that is designed to create maximum impact.
If you want to know the value of becoming a Strong College Students franchise owner, all you have to do is look at the statistics.  
The Stats Don't Lie
The annual revenue for the moving industry is seventeen billion dollars

One out of five people move every year, ensuring that you have a constant market.

And one out of three people move locally, meaning that you can offer local services in your area.  
This probably explains why 96% of all moving companies are small, locally owned businesses.  
Owning a franchise with Strong College Students ensures that you can become a part of this huge industry. Therefore, it provides you with the business model to make the transition successful.
Another amazing aspect of being an owner in the moving industry is its stability and longevity.  
Statistics on moving, and the realities of moving frequency, stay relatively the same despite changes in the economy.
Your business will still have the opportunity to survive and thrive. This means that even when other businesses are suffering from an economic downturn, you will be fine.
Strong College Students offers multiple levels of initial capital investment to ensure that our franchisees are making a responsible and manageable investment.  
We create a plan to help you build and maintain your franchise so that you can enjoy long lasting success within your company.
Local movers in Tampa say, our dedication to our employees and our franchisees sets us apart as much as our dedication to the satisfaction of our clients.  
Opening a Strong College Students franchise is a smart and manageable investment for any budding entrepreneur. Our program ensures that anyone with the drive can become a Strong College Students franchise owner.            
0
0
admin
https://strongcollegestudents.com/wp-content/uploads/2015/02/strong-college-students.png
admin
2016-06-28 11:14:25
2022-02-08 10:40:47
Local Movers in Tampa Also Own and Operate the Franchise